M.Sc. Vienna University of Technology, 2003
Ph.D. ETH Zürich, 2007
postdoc: University of St. Andrews, 2008 – 2012
PI: TU Graz, 2012 – 2020
Assistant Professor: IST Austria, 2020 –
ORCID, Researchgate, google scholar, publons
Stefan Freunberger obtained his PhD in Chemistry from ETH Zürich and was post doc at the University of St Andrews, working on many aspects of Li-O2 chemistry. He has been PI at TU Graz and is since 2020 Assistant Professor at IST Austria, with research interests embracing energy-storage materials, including alkaline-ion and metal-O2 and metal-S batteries, electrolytes, and in situ techniques. His research has been recognized by the Srinivasan Young Investigator Award of The Electrochemical Society, the invited visiting professorship La Chaire Total de la Fondation Balard, elected membership of the Austrian Academy of Sciences, the Tajima Prize 2018 of the International Society of Electrochemistry and an ERC Starting Grant.
---
Contact Info
Stefan A. Freunberger
Institute of Science and Technology Austria
Am Campus 1
3400 Klosterneuburg, Austria
Tel.: +43 (0) 2243 9000 2169
E-Mail: stefan.freunberger(at)ist.ac.at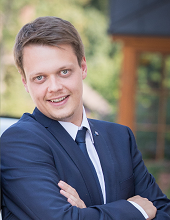 M.Sc, TU Graz, Austria
Ph.D., TU Graz, Austria, 2019
Stefan obtained his M.Sc. and Ph.D. degree in Inorganic Chemistry from TU Graz on the synthesis, photochemisty and electrochemisty of porphyrins. His research is focused on main group electrochemistry.
Seungho Lee – Intern (now Ibáñez Lab, IST Austria)
Christian Prehal – postdoc (now Marie Curie Fellow, ETH Zürich, Switzerland)
Yann Petit – Ph.D.
Aleksej Samojlov – Ph.D.
Eléonore Mourad – postdoc (now A.T.E.R. University of Bordeaux, France)
Daniel Mijailovic – Ph.D. (now University of Belgrade, Serbia)
Christian Leypold – Ph.D., postdoc
Alen Vizintin – postdoc (now National Institute of Chemistry, Ljubljana, Slovenia)
Nika Mahne – Ph.D. (now austria micro systems)
Lukas Schafzahl – M.Sc. & Ph.D. (now austria micro systems)
Bettina Schafzahl – Ph.D. (now austria micro systems)
Anjana Raj – M.Sc. (now IISER Pune, India)
Anita Leitgeb – postdoc (now Mayer-Melnhof)
Sandra Grumm – M.Sc. (now austria micro systems)
Tobias Müller – M.Sc. (now austria micro systems)